Spring Awakening – Time to get shipshape for the season
It is a sad fact that every spring, shortly after launching, many boats moored safely at the quay then sink, and turn what can be the most beautiful time of the year into a fiasco.
We have identified the most common causes of spring sinking and here we share our tips for preventing damage and starting the season safely.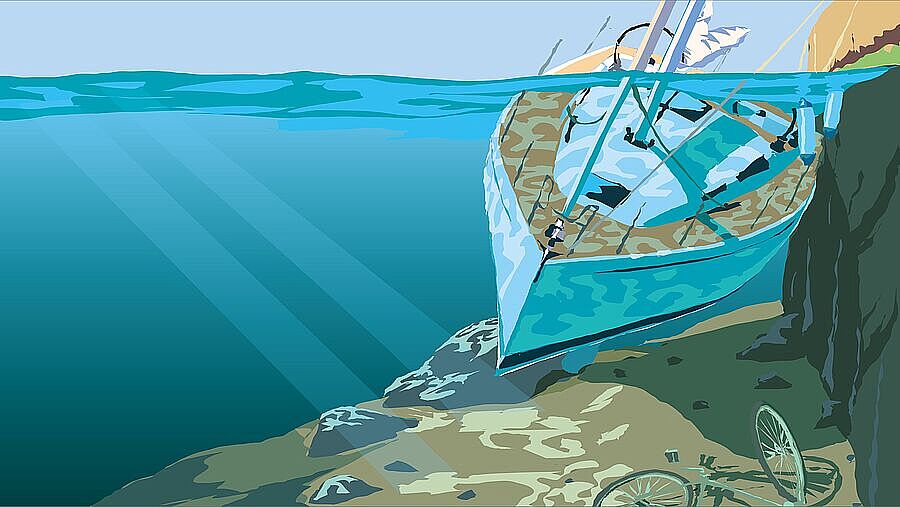 The five most common reasons why boats sink in spring
Missing or damaged hose clamps: These clamps are often removed in the autumn to winterise the engine. In the spring, when the yacht is put into service, they are then forgotten. In the tight spaces in the engine compartment, unsecured or worn clamps are difficult to spot.
Unsecured hoses: In winter, freezing water can lift hoses out of seacocks.
Spring rainfall: Leaking ports or deck hatches, burst or poorly sealed fittings or pours, combined with scuppers clogged with leaves, for example, can cause your boat to sink quickly.
Defective seawater filters: Glass, plastic and even bronze filters can burst or bend over the winter if they are not properly winterised. This can cause water to drip in when the seawater intake valve is open.
Leaky stuffing box: Constant dripping from a poorly fitted stuffing box (if present; the "packing" of the drive shaft) has been known to flood a boat.
Prevention tips
Before launch:
Inspect the hose clamps and replace them if necessary. Double clamping hose connections with seaworthy, rustproof hose clamps makes sense. Close seacocks when absent.
Check cooling hoses for stiffness, disintegration, leaks or cracks. Make sure they are well fitted.
Replace spent sacrificial anodes.
Inspect the ship's propeller(s) for dents, rust pitting and deformation. Make sure the cotter pins are tight. Grip the propeller and try to move the axle - if it is too loose, the propeller axle bearing (on inboard propulsion systems) may need replacing.
Make sure the rudder stock is not bent.
Inspect the boat skin for blisters, distortions and stress cracks.
Make sure the drive seawater filter is not burst or bent, and that it is rust-free, clean and properly secured.
In the case of inboard motors, check that the motor shaft and the control rudder stuffing boxes are loose. A stuffing box should only leak when the propeller shaft is turning and must be inspected regularly.
Inspect and lubricate the seacocks.
Use a garden hose to check the joints and hatches for leaks on deck. Replace the joints or caulking as necessary.
Make sure the aft deck drain plug is installed, if present.
Outboard engines:
Inspect the outboard motor rubbers for cracked, dried and/or worn areas (take care to check the creases) and replace if wear is apparent.
Check the power steering and the power trim oil level.
Replace anodes that are over halfway worn.
Inspect the sheathing of the control cables. Cracks and swelling indicate corrosion and mean the cable needs to be replaced.
Engines and fuel systems:
Inspect fuel lines, including fill and drain hoses for give, brittleness or cracks. Check all connections for leaks and make sure all lines are well supported by fireproof clips or straps with rounded edges.
Inspect fuel tanks, pumps and filters for leaks. Clamps should fit snugly and be rust-free. Clean or replace fuel filters. Owners of petrol-powered boats with fibreglass fuel tanks should consult a professional specialist for any ethanol-related issues.
Every few years, remove the exhaust manifold and check for rust.
Clean and tighten electrical connections, especially both ends of battery cables. Clean battery terminals with a wire brush and fill cells with distilled water (if applicable).
Check the bilge vent hose for holes.
Boat trailer:
Inspect tyre treads and sidewalls for cracks or missing tread and replace if necessary. Check the air pressure and don't forget the spare tyre!
Inspect wheel bearings and repack if necessary.
Test both the rear lights and spare lights, and wind them up to make sure they are working properly. Inspect the trailer's chains.
Inspect the frame of the trailer for rust. If rust is present, sand and paint it to counteract further wear.
Inspect the brakes and the brake fluid reservoir.
Miscellaneous:
Check the expiry date of the beacons and fire extinguishers.
Inspect the cooker and outer tank for loose superstructure and leaking hoses.
Inspect the bilge pump and flood the switch to check for proper operation.
Check for chafed areas in the dock and anchor lines.
Inspect the power feed cable connections for burnt spots. Burnt spots indicate that the power feed cable and/or connector needs to be replaced.
Make sure your boat licence and/or registration are up to date. Don't forget your trailer registration plates!
Look at your boat insurance policy and update coverage if necessary.
Make sure you have portable life jackets of the correct size and in good condition for each passenger, including children. Check cylinders for inflatable lifejackets.
Test the smoke alarm and the carbon monoxide, steam and bilge alarms.