Many boats and yachts find themselves manoeuvred onto the dry in autumn. For those left on the jetty as winter approaches, it's time to dress warmly for the cold months ahead.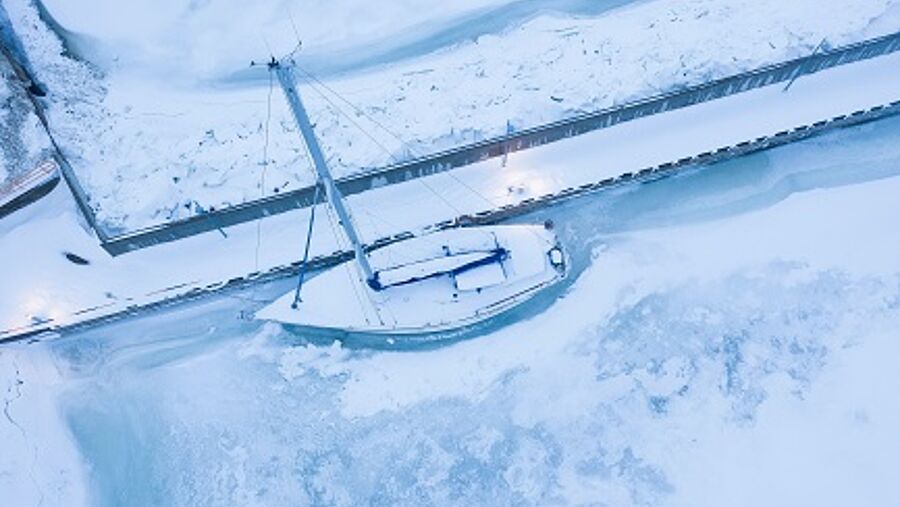 More and more owners are choosing to leave their boat or yacht in the water during the cold winter months and the benefits are abound: No craning in and out, more flexibility and lower mooring costs – all advantages that play a role in this decision. However, Holger Flindt, Head of the Claims Department at Pantaenius Yacht Insurance emphasises: "This variant of wintering should be carefully considered. Anyone who wants to retain the option of boating during the cold season must be on site regularly, keeping a close eye on his or her vessel. A vessel that remains in the water purely for cost reasons and is rarely, if ever, visited will quickly suffer from the external weather conditions." Therefore, careful preparation is called for.
A suitable berth
A boat in the harbour basin is not necessarily safe because even a mild winter can bring storms and overnight frosts. The chosen berth should therefore be winter-proof, i.e. well protected from wind and waves and not exposed to swell, strong currents and, above all, ice," explains Holger Flindt. "Incidentally, not every port offers in-water winter berths. In some ports, the jetties are even taken out of the water during the cold season! So it's important to find out in good time whether the respective port is open all year round and what alternative ports can be used."
In addition, the infrastructure of the chosen port plays a decisive role when wintering in the water. "It is particularly important to have a shore power connection all year round, as this is the only way to ensure that there is no frost on board during particularly cold periods. In practice, it happens time and again that freezing water damages valves and boats can sink as a result. Fittings, pipelines and valves located inside the ship above the outer water surface are particularly at risk. So if a ship is to remain operational for cruising or even for living aboard, the temperature on board must not fall below freezing. An additional radiator can be extremely useful in this context. Electric radiators that are suitable for continuous operation and equipped with a thermostat, prevent freezing water from damaging hoses, pipes or tanks even at a low level. However, the basic prerequisite for this is a shore power connection, and this is not available in every harbour or it is sometimes switched off at jetties in smaller marinas. Owners should therefore find out about the local conditions in good time."
In the event that there is no shore power supply or the supply is unreliable, care must be taken to ensure that water in pipes or hoses cannot freeze and cause them to burst. If in doubt, it is advisable to remove hoses above the waterline and fill those below the waterline with (environmentally friendly!) antifreeze. The engine should also be drained or rinsed with antifreeze in sub-zero temperatures.
Certain work on the boat, especially on the underwater hull, is only possible to a limited extent in the water. So if you are planning a new coat of antifouling or other maintenance work in spring, you should enquire about crane or slipway facilities in the harbour area.
Winterising properly
Once the decision for an in-water winter berth has been made, the proper preparation of the vessel follows. "Anyone who visits the jetty at regular intervals and uses their boat or yacht over the winter, does not initially have to make any major preparations apart from the general duties of care, securing the vessel with sufficient fenders, lines and a tarpaulin, and keeping an eye on the weather forecasts," explains Holger Flindt. "The situation is different, however, if the boat or yacht remains at the jetty throughout the winter and is not to be used again until spring. In this case, the boat should be thoroughly winterised. Not only to prevent theft, but also to prevent mould and to protect sensitive equipment such as electronics or outboard motors from low temperatures. All equipment that is not nailed down should be dismantled, taken off and stored in a frost-proof place. Damp air, in combination with frost, leaves nothing undamaged and any equipment, whether sails, tarpaulins or the sprayhood, will experience much faster wear and tear in the cold open air."
Winterising also means cleaning the anchor and chain, protecting sensitive wooden items on deck with a tarpaulin and putting cushions below deck or removing them. The bilge should also be emptied, cupboard and locker doors opened and batteries on board fully charged.
Attention, "dripstone cave!"
When it gets colder, a great enemy of the boat lurks in the air. Moisture can cause great damage below deck and even endanger health. Whether and how much moisture collects below deck depends on several factors. In the worst case, mould, mould spores and mustiness are the result, which is why it is important to take appropriate precautions. In practice, various methods have proven their worth. Some secure their ship almost waterproof and install numerous dehumidifiers below deck, while others opt for continuous forced ventilation on board. With regard to the latter, this is achieved with as many hatches as possible left ajar, similar to shock ventilation in a flat or house, so that air can circulate sufficiently below deck. The unfavourable side effect of this, however, is that new moisture can constantly get into the interior of the ship.
"If you want to filter moisture and at the same time ensure the greatest possible exchange of air, you should empty the containers of the dehumidifier regularly. Otherwise, water may eventually condense on the cold hull wall, flow into the bilge and cause mould," emphasises Holger Flindt. "Of course, a heater can also be used to prevent humidity from settling on the surfaces. However, the energy expenditure in this endeavour is beyond any dimensions."
Our tip: Monitor the amount of water in spring and, if necessary, change your strategy for reducing moisture on board in the coming winter.
When a prolonged period of frost is on the horizon, it is advisable to winterise the machinery, provide all valves with antifreeze and empty all water tanks. "Especially with regard to insurance, it is advisable to take care," emphasises Holger Flindt. "One of the ship owner's obligations is to take sufficient protective measures before the onset of the frost period. If this does not happen and damage occurs, one's own actions can be judged as grossly negligent and the claim settlement can be reduced accordingly. Therefore, if you intend to winter your vessel in the water, you should talk to your insurance company in good time about your plans and clarify whether this form of winter storage, as with Pantaenius, is included in the cover or whether it is excluded, along with possible consequential damage."
Keep an eye on your ship! This means checking on it yourself from time to time, asking friends who live nearby to do so, and clarifying with the harbour master that regular checks are carried out in winter.
In the event of severe weather warnings, quick action is required. The boat should be moored properly, mooring ropes should be checked for chafing and abrasion and replaced if necessary, and additional lines and fenders should be ready.