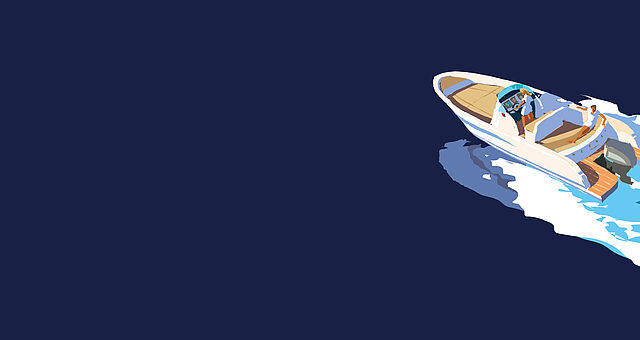 One of the UK's leading specialists for yacht and boat insurance
If you have any questions or require advice regarding any of our insurance products please contact us. Our insurance advisors will be happy to help.
Optimal insurance cover for your boat
Take the safe course: By taking out the right insurance, you not only protect your own boat, but also yourself against liability for damage caused to third parties. Our bespoke insurance solutions take your individual requirements into account ensuring you always have the best possible protection on board!
Hull Insurance
Hull Insurance from Pantaenius covers you for total loss and partial damage to your boat.
Protection against all risks
Agreed Fixed Value
New for Old
What our clients say about us
Based on 99 Google reviews
Chris Berkley
29.04.2023
The staff, and Nicola especially, handled the quote and cover for our new yacht with utmost care, professionalism and empathy. She ensured that we had the correct cover for our needs, at the right price as well as taking us through the proposal step by step in person when we were ready to start. Thoroughly recommended!
Mark Featherstone
15.04.2023
Whilst my boat was in its berth it was hit by a runaway boat causing a fair bit of damage!! The team at Pantaenius were amazing, they understood what an upsetting experience this was and process the claim without any fuss, delay or stress. My boat is now repaired to an exceptionally high standard. The contractors invoices were settled promptly and Pantaenius waive my policy excess charge which was a much appreciated gesture. My thanks go to the Pantaenis team for a first class service!
Magnum Sailing
06.04.2023
We were planning to do some long term 2 handed cruising Pantaenius were able to offer us a very flexible insurance to meet our needs at a very reasonable price. The communication with Patrick throughout the application was excellent answering all our questions very promptly. This is the first time we have insured our boat through Pantaenius and they certainly have given us confidence.
jonathan paull
02.04.2023
Following storm damage to the hull of Seraphina in March 2022 I contacted Pantaenius. From making the claim to receiving approval was a very quick and straightforward process. The surveyor visited the vessel and discussed the extent of the damage and repair with me The claims manager at Pantaenius was helpful and supportive throughout. It was agreed that the work could be carried out at a yard of our choosing and the quotation received from the yard was accepted without fuss or any problems. The repair which involved partial hull respray and and some timber toe rail repairs was completed to a high standard at Fox's of Ipswich. Having insured our vessel with Pantaenius for 15 years this was my first claim and the service and process was all very pleasing. My thanks to all the team at Pantaenius for your help and professionalism!
Bill Hercus
10.02.2023
Had argument with a charted rock (missed a decimal point on the Chart Plotter) and lack of currently available facilities at the marina meant a delay hauling out for inspection (no cradle if a serious problem). Company kindly paid for inspection hold (no excess) so I was able to relax. Fortunately, no real damage.