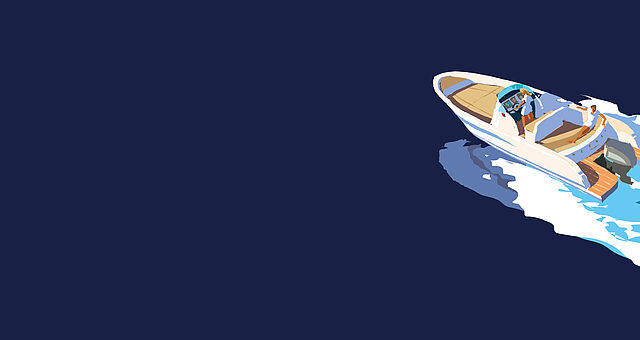 One of the UK's leading specialists for yacht and boat insurance
If you have any questions or require advice regarding any of our insurance products please contact us. Our insurance advisors will be happy to help.
Optimal insurance cover for your boat
Take the safe course: By taking out the right insurance, you not only protect your own boat, but also yourself against liability for damage caused to third parties. Our bespoke insurance solutions take your individual requirements into account ensuring you always have the best possible protection on board!
Hull Insurance
Hull Insurance from Pantaenius covers you for total loss and partial damage to your boat.
Protection against all risks
Agreed Fixed Value
New for Old
What our clients say about us
Based on 121 Google reviews
David LATITDE
20.10.2023
Brilliant first class service even though I went about the repairs back side first as it needed doing anyway. So boat lifed out repairs completed in Spain while i was in the UK arrived back in Spain paid the ship yard then contacted Pantaenius (as wasn't sure it was an insurance claim but had to be carried out) very friendly people and they excepted the claim after sharing invoices before and after photos. Brilliant customer care
Gerry Bullard
19.10.2023
I recently had a claim following hitting a submerged object. I have to say from the time I made the claim to when I could relaunch the boat was as quick as I could have dreamed of. The service from the claims manager was superb with correspondence replied to in less than 24 hours. That is why I will always insure with Pantaenius who may be a little more expensive than others but quality comes at a price, which is worthwhile.
nikolas vellos
10.10.2023
Pantaenius made my marine insurance claim as painless as was humanly possible. I was talking by phone with Mr Antony Chapman that i then dealt with all the way through to final settlement. He was professional helpful and straight forward to deal with. I cannot recommended them highly enough.
Daniel Francis
04.10.2023
I used Pantaenius Insurance last year having bought my first boat. They were helpful from the outset and guided me without a hitch. The price was more than reasonable for a 33ft sailing yacht. Would highly recommend them and will use again in the future.
Sailing Scallywag Ltd
07.09.2023
Fiona & Harry went above & beyond. They looked at our situation and created a bespoke offering based on our needs. Our boat is like a family member so having Pantaenius as our Marine insurance company gives great peace of mind! They are the best in the business!