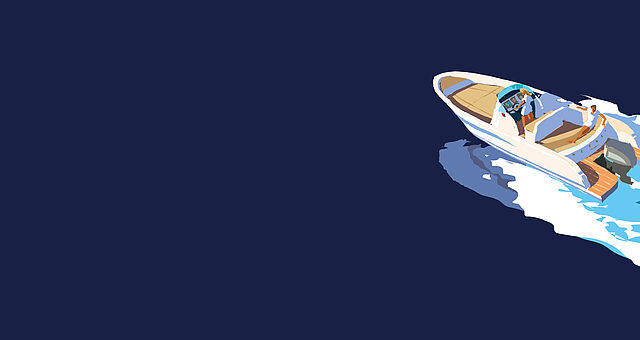 One of the UK's leading specialists for yacht and boat insurance
If you have any questions or require advice regarding any of our insurance products please contact us. Our insurance advisors will be happy to help.
Optimal insurance cover for your boat
Take the safe course: By taking out the right insurance, you not only protect your own boat, but also yourself against liability for damage caused to third parties. Our bespoke insurance solutions take your individual requirements into account ensuring you always have the best possible protection on board!
Hull Insurance
Hull Insurance from Pantaenius covers you for total loss and partial damage to your boat.
Protection against all risks
Agreed Fixed Value
New for Old
What our clients say about us
Based on 85 Google reviews
Bill Hercus
10.02.2023
Had argument with a charted rock (missed a decimal point on the Chart Plotter) and lack of currently available facilities at the marina meant a delay hauling out for inspection (no cradle if a serious problem). Company kindly paid for inspection hold (no excess) so I was able to relax. Fortunately, no real damage.
Peter Lines
25.01.2023
I have insured with them on and off over the last 20 years with 5 yachts. Sometimes not the cheapest on the market but check that you are comparing like for like products and cover. Their insurance was always more comprehensive. Will no doubt buy another yacht at some point and they will be first on my list to get a quote from.
John K
04.11.2022
These guys are really good at yacht insurance for cruising sailors! If you are sailing the high seas, these are the people to ask for a quote. If you have a dock queen .....ok, you don't need them. But for yachts that go across oceans, they are a great insurer!
John Barrett
21.09.2022
When I really needed them, they were there. Professional, courteous, sympathetic and helpful. I was given help and support from first contact and my claim was dealt with quickly and with without fuss. You couldn't ask for anything better.
Aisling Hassell
14.09.2022
Pantaenius is a great company to work with for boat insurance. I always found them very responsive and helpful. Thankfully we never had to file a claim but they were very prompt in handling adjustments and updates to our policy. I would highly recommend them.