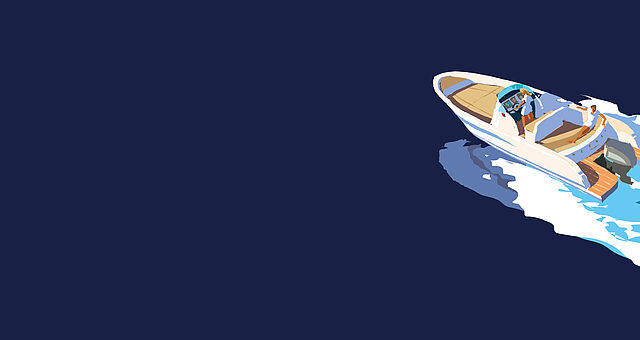 The leading
Boat Insurance specialist
Yacht Insurance
Simply complete the following form and we will contact you as soon as possible with a personalized quote for your boat.
If you have any questions or require advice regarding any of our insurance products please contact us. Our insurance advisors will be happy to help.
Optimal insurance cover for your boat
Take the safe course: By taking out the right yacht insurance, you not only protect your own boat, but also yourself against damage caused by third parties. Our bespoke insurance solutions take your individual requirements into account ensuring you always have the best possible protection on board!
Hull Insurance
Hull Insurance from Pantaenius covers you for total loss and partial damage to your boat.
Protection against all risks
Agreed Fixed Value
New for Old
Pantaenius Yacht Insurance: Your modern Boat Insurance
To suit your boating lifestyle, comprehensive protection is important. Pantaenius has just the right yacht insurance for you and your vessel – including easy to understand policy wording that covers all important aspects. In the 1960's, Pantaenius was an essential part of establishing today's modern marine insurance by shaping our Yacht Hull including Agreed Fixed Value: Unlike many other insurers, we don't simply insure market value, but instead, you will know exactly what sum you will receive beforehand. Pantaenius Yacht Hull will protect you from financial burdens resulting both from partial damage and total loss. As part of a comprehensive boat insurance policy, our Yacht Third Party Liability Insurance and Yacht Personal Accident Insurance are sensible additions.
Comprehensive Protection for your Watercraft: Meet The Experts
Yacht Insurances in Australia and beyond: With our offices spread worldwide and our seasoned specialists, we are happy to help you via our claims help line available 24/7 – after all, boating accidents require fast, flexible and unbureaucratic help. For all important details regarding our boat insurances, please see our product disclosure statement. Do you have any further questions regarding your optimal yacht insurance quote? Simply call us or write as an e-mail, we will be happy to advise you!
What our clients say about us
Read some of our latest Google reviews
Jordan Watson
27.01.2023
Absolutely loved working with Pantaenius and would highly recommend them to anyone seeking yacht insurance. Declan was super helpful and efficient in getting my policy sorted the same day so I was able to get back to doing what I love best - sailing! Very thorough and knowledgeable on the type of yacht I have and where I'd be sailing her. Hopefully I'll never have to make a claim but if I did I'd be confident the crew at Pantaenius would help me solve it quickly. Thanks again!!
Charles Kostantinidis
25.01.2023
I made a claim through Pantaenius because some cowboy rammed my boat while I was in my pen. I will be succinct and simply say Renata was an absolute angel. I've been having health issues and also difficulties getting Shippies to come and look at my boat, couldn't have done it without her. Thanks again me darling. 😘
Anthony Smith
14.10.2022
The service and support from Pantaenius was fantastic. Declan went out of his way to help us with insurance options for our new vessel and took the time to listen to our plans and experience so cover was specific to us. Thanks for the great service