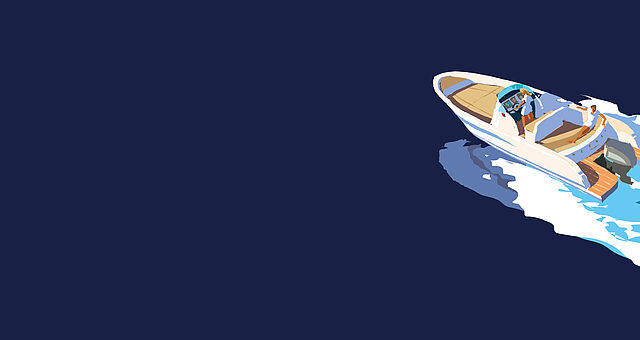 Europe's leading specialist
for yacht and boat insurance
If you have any questions or require advice regarding any of our insurance products please contact us. Our insurance advisors will be happy to help.
Optimal insurance cover for your boat
Take the safe course: By taking out the right insurance, you not only protect your own boat, but also yourself against damage caused by third parties. Our bespoke insurance solutions take your individual requirements into account ensuring you always have the best possible protection on board!
Hull Insurance
Yacht Hull Insurance from Pantaenius covers you for total loss and partial damage to your boat.
Protection against all risks
Agreed Fixed Value
New for Old
Our products for boat and yacht owners
Based on 371 Google reviews
Wojciech Czerwiński
16.08.2023
The application for compensation from the deposit insurance was approved in 3 days. This is how all insurance companies should work. Thank you very much!
Oskar Pokropek
28.07.2023
The Ease of use of Pantaenius patform itself is awesome. We have purchased the deposit insurance, where unfortunately I needed to use it. Customer service and the way our claim was handled is 10/10. It was my first time in 20 years I needed to make a claim and Pantaenius did a great job supporting me along the way.
edubowman
28.07.2023
I just got confirmation of acceptance of a charter bond/deposit claim and again, I must say Pantaenius is one of the most modernized, serious and trustworthy companies within the nautical industry. Quick and intuitive purchase process, fair pricing and amazing customer service. Thanks!
Kirill Shein
14.07.2023
My boats have been insured with a number of insurance companies before I came to Pantaenius, so I do have experience. Pantaenius so far was the easiest and quickest to deal with both in case of getting the coverage and getting claims sorted. My best experience so far!
monique klompe
28.05.2023
We can highly recommend Pantaenius: they are professional and helpful in situations you need them. In preparation of our world trip, we decided in 2021 to insure our boat, a Contest 46 built in 1989, with Pantaenius. The reason was: flexibility of coverage around the world and good reviews. On August 18, 2022 we lost our anchor in a bay on the west coast of Corsica in a storm with hurricane force, more than 100 knots of wind, and ended up on the beach. We were pulled off the beach which created most damage. Panteneus responded very quickly to our report of the accident and the same day Dutch experts were flown in for recovery of the boat from the beach. The experts did all negotiations with salvage companies and government which was a great relief for us. When the boat was back in the harbor on Corse we made a list of all damages with a new French expert and he helped us professionally to get all the repairs done. It was decided that the repair could not be done on Corse and the boat was transported by truck and ferry to Marseille. From our first report till repairs were done, Pantaenius has treated us very well in every way. We had a single contact in the claims department who was very professional and friendly. First thing she asked was wether we were OK and safe. All our costs have been reimbursed - we had only fair discussion about them - and all repairments were solved to our satisfaction.