Commissioning for the new Season
Before you start using your boat this Spring, we want to share this checklist with you for commissioning. It should help to provide you with a means of checking off some important points before you cast off for another season.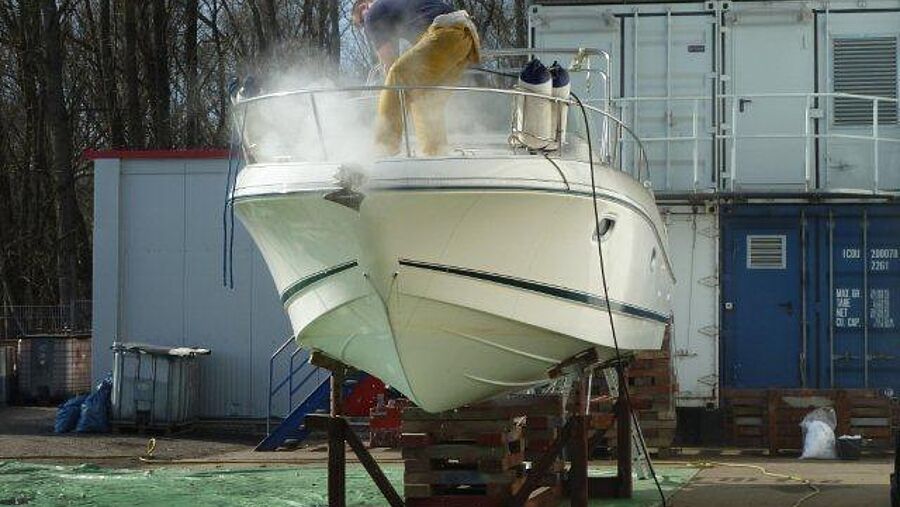 Engine Attention
Sail or motor boat, nearly every boat has an engine and all, especially diesel engines, produce contaminants that are harmful and that are flushed into the sump and held in suspension by the oil. If contaminated oil is left over the winter months, it can attack sensitive engine surfaces, so the engine oil and filter should have been changed at the end of last season. The transmission and sail drive or stern drive unit also need annual oil changes.The fuel tanks should have been stored full and with the correct amount of fuel stabilizer for petrol, or biocide to prevent algae growth in diesel fuel, and the engines should have been run long enough that the treated fuel has circulated through the fuel system before storage.A generator should be treated like the engine it is and winterised like the main engine(s). In the spring, start it up, put it under load, make sure it functions properly before you go out and run it up to full operating temperature.Whether you hauled your boat for the winter or kept it in the water these steps are crucial.
Cathodic Protection
Maintaining corrosion protection through correctly functioning anodes is critical. If anodes are not changed every year be certain to check the anodes on your sail or stern drive, bow and stern thrusters, shafts, props and every other place an anode is installed to see if they need replacement.Watch for signs of galvanic action. If it looks aggressive, it may be stray current leakage entering the water through a shore power system or more likely, from a boat that has a faulty ground. This should be investigated carefully by a specialist. Sail drives, stern drives and props can be eaten away when their protective anodes are no longer in existence.Magnesium anodes are recommended in fresh water, aluminium in brackish water, and zinc in salt water.
Skin Fittings and Other Through Hull Fittings
Before launching, it's a good idea to lift all sole boards and open all access points to locate every through hull fitting on the boat. Check that all valves open and close fully and if they do not it is possible to free them by placing a bung in the through hull fitting, filling the valve with diesel and leaving it until it operates freely. Be careful when draining the diesel though to avoid pollution. Check for signs of corrosion to valves and hose clips, all hose to valve connections should be double clipped, inside the boat aggressively test all through hull fittings, valves and hose attachments for their security in the hull. Some through hull mounted transducers are of plastic construction that can hold water, freeze and crack or break during the winter. It is best to remove the transducer in the autumn to drain the water, then lubricate the "O" rings and reinstall in the spring.Through the winter, a low point in just one hose can create a problem if it doesn't drain fully and then the freeze-thaw cycle creates a leak. When launching try and keep the boat in the lift slings or on the trailer until you are sure no water is entering.
Fuel System
Fuel systems in boats are vented to the open air and as a result, moisture and condensation can enter tanks. Diesel fuel with water contamination can develop bacterial growth that leads to deposits which can clog filters and fuel systems.Careful attention to fuel filters is the key to combating these problems. Replacing filters at the start of each season is a good practice.
Drive System
Drive systems require special attention in the spring to ensure a trouble-free season. The starting point is the raw water pump impeller that delivers cooling water to the engine. If a through hull fitting is left closed, sea weed or other debris has blocked the intake, or the impeller is worn or damaged, the engine can overheat and potentially catch fire.For boats equipped with outboard engines or stern drive systems, the water intake is on the lower unit and the pump impeller is sometimes in the drive, sometimes on the engine.
Either way, the impeller itself is an inexpensive part and annual replacement is a cheap assurance of reliable engine cooling water.Stern drives require a separate maintenance program, with the engine in the boat and the drive is outside, requiring that water intakes, drive shaft, control cables, and other assemblies pass through the transom and out to the drive, which has to both turn for steering and tilt up and down for trim. This mobility is accomplished through the use of water-tight transom bellows. Corrugated rubber bellows have a lifespan of three to six years. The rubber eventually becomes hard and brittle and leaks or total failure can result.Another component that requires attention is the universal joint.
The universal joint includes a gimbal bearing that requires annual lubrication prior to launch.Manufacturers' maintenance schedules typically recommend that the stern drive be removed from the boat on an annual basis or every 100 hours of use. At that time, an engineer can inspect the condition of universal joints, gimbal bearing, bellows and so on. The weight of the drive unit itself means that this is usually not a task most owners can undertake themselves.Sail drives also require proper lubrication but they do not have the bellows and moving parts found in a stern drive.For inboard installations with traditional prop shaft drive, check that the stuffing box is operating and adjusted correctly. New dripless versions in particular, need attention to ensure that cooling/lubrication water is reaching the bearing surface. If the boat has been stored out of the water or hauled for maintenance, follow the manufacturer's recommendations carefully for any pre- or post-launch steps to prevent leaks. Traditional stuffing boxes with a packing gland and packing should never drip more than one to three times a minute when running in gear and should keep the bilge almost dry when not running. Periodically, the packing nut needs adjusting; if the gland leaks too much, packing needs to be replaced. Also, pay close attention to the condition of the hose and hose clips surrounding the stuffing box and replace them if they are worn and / or corroded.
Batteries
When batteries are reconnected in the spring its good practice to test them with a voltmeter in case any dash or chart table gauge is not accurate. After storage, if the battery registers 12.7 volts, in general, you have a healthy battery. If you only have 11.7 volts, the battery is significantly weakened. Try to check them before lay up and again in the spring for comparison.There are many ways of storing batteries in winter, but if a series of batteries is left connected and one has a bad cell, it can affect the other batteries. When you connect a battery charger, after a while check voltages and also the temperature of the battery by touching it. If it is hot and the voltages don't seem right, the battery is likely to be faulty and need replacement.Make sure the batteries are secure in the boat and well ventilated.
Sailing Boat Rigging
Leaving the mast up reduces haulout and re-launch time and cost in the spring and autumn but increases long-term wear on the hull and components. Unstepping the rig allows easy regular inspection of mast, rigging, lights and other mast-mounted electrics. Check the radar mount. Inspect halyards and other running rigging for wear and chafe points. Check all fittings, cotter pins, turnbuckles, chain plates and swaged terminal ends for cracking, corrosion or signs of fatigue before stepping the mast.When boats are left in the water with the mast stepped year-round, it's important to carry out seasonal inspections of the mast and rig, either by going aloft yourself or paying a rigger to do it for you.
Pulpit, Stanchions, Pushpit, Lifelines and Jackstays
Lives depend upon these components. Security and condition of all should be checked. UV degrades lashings on lifelines and jackstays and any shackles must be locked up with seizing wire or cable ties.
Ground Tackle and Mooring Arrangements
Chafe and wear leads to boats breaking free from their moorings. Check wear to any moving parts on anchors and lay out chain for inspection link by link. Is there provision to prevent the anchor chain or mooring buoy tackle jumping out of the stemhead / bow roller fitting in heavy weather? Any shackles used should be securely locked (moused) up to prevent the pins unwinding. Are mooring cleats and bollards secure and mooring warps of appropriate size, type and free from wear and chafe? Chafe protection (simple reinforced pvc hose is good enough) around mooring warps at chafe points is good practice.
Bilge Pumping Arrangements and Plumbing System
Test float switches bilge pumps and alarms – these boat and life-saving devices are inexpensive and they should be serviced, and where necessary replaced, to ensure that they work when needed.Fill the water tanks, pressurise the water system and leave the water pump switched on. While working on other areas of the boat, listen for the pump cycling and occasionally check the bilge for leaks. O-rings and gaskets in the system should be replaced at regular intervals as they can deteriorate.Fill and empty the heads several times, check for leaks on the seawater intake and on the sewage outlet. Make sure there is no backflow of sewage and check for smooth, normal operation. Test the shower and check for leaks there as well.
Galley
Check the gas bottle locker and its overboard drain. Flush the drain to ensure that it is intact and not clogged. Gas bottle storage should never drain into the bilge. Check age and condition of flexible hose and regulator.Refrigerators often have a water line. Make sure it is not leaking once the appliance is turned on.Air-conditioning on boats uses raw water for cooling and heating; at the start of the season, it can be hard to prime the pump. Some units have wing nuts to enable priming of the AC line; loosen the fitting until water escapes, then tighten it again and the system should be primed. Check the overboard discharge to ensure there is a stream of cooling water.
Safety Equipment
Before launching, make sure all safety equipment is on board and up to date: flares, life rafts, life jackets, fire extinguishers etc. Do a vessel safety check. It is a good idea to do a safety check a day or so after launching to ensure a problem has not developed since the boat went into the water.These are just a few checks in advance of your launch in order to prepare for a safe and enjoyable boating season.