11/26/2021
Insurance Insights
Most common claims
Collision
Whether it be with another boat, a log or even a whale… collisions occur A LOT. Collisions are definitely the claim we see most and the damage suffered as a result can range from minimal to extreme. You may be lucky enough to get away with a scrape but you could also end up with a decent sized hole or may even find yourself being held responsible for the damages to another person's boat or property.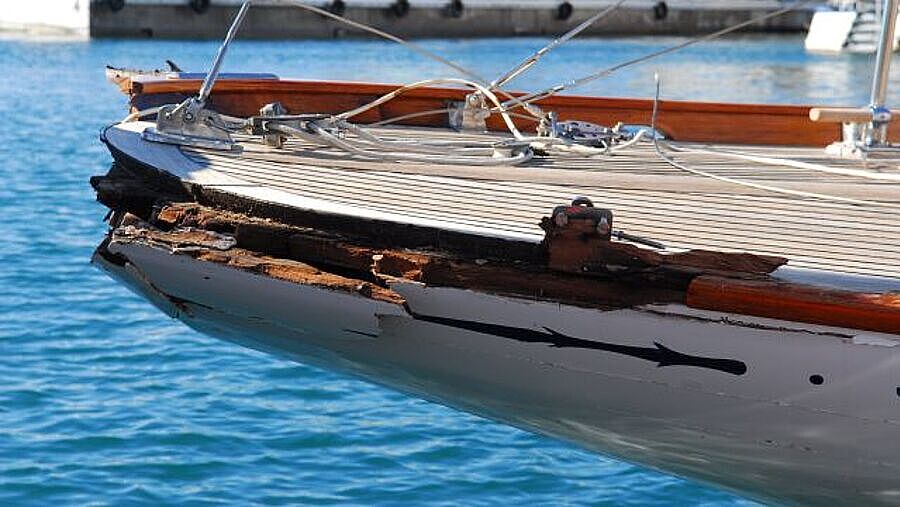 Weather/Waves/Storms
The perils of the sea are often unavoidable and subsequently we see this type of damage frequently. Typically damages resulting from the weather can be greatly minimised by securing your vessel appropriately (removing any loose items, removing covers and awnings, adding additional lines and fenders, etc.). In some cases weather warnings are in place, giving you ample time to protect your boat as best you can. Wave damage can be more unpredictable but it goes without saying, if you're encountering treacherous conditions, be sure to secure everything as best you can in order to minimise damage.
Lightning
Ahhh lightning damage, the nemesis of our diligent claims team. Why? Because lightning claims commonly take the longest to resolve due to the meticulous testing that is often required. This is, of course, not always the case and is largely dependent on the electrical system on a boat and the unpredictable nature of lightning strikes. It can, however, cause frustration for both the client and our team when the extent of the damage can't be identified quickly. Further, lightning strikes can be scary! A direct strike at sea is incredibly loud and if you're far from land and your navigation system fails it's definitely not a fun situation. This is another reason why we are so adamant about the necessity for paper charts on board, you never know when you may need them. Adding to this, lightning strikes are becoming more and more common both at sea and on land, therefore it's wise to unplug electronics whilst the boat is not in use.
Grounding/Stranding
Groundings are again an incident we see far too often and are largely avoidable. Most of the time the damage results from hitting the bottom or temporarily stranding on a bank at low tide. Here the damage is typically suffered by the prop or shaft, abrasion to the antifoul, or even impact to the keel or rudder. In other cases however, a boat may end up completely stuck on a reef or come off its mooring and get beached. In these instances, a substantial salvage operation may be required which can become very expensive, all depending on the size, type and location of your boat as well as the damage suffered. The burden of these costs can be life altering, it's a time where most are really grateful that they have insurance. The best way to avoid groundings is to become familiar with the area you're travelling through, zoom in on maps, ensure your anchor is fit for purpose and secure when dropped, regularly servicing your mooring… just to name a few.
Theft/Vandalism
While we haven't encountered many boat thefts, we see the theft of personal belongings or equipment regularly. Most of the time the thefts are a result of belongings being left within easy reach of thieves. It may be fishing rods left loose on the deck or a tender tied by rope to a public jetty. So our advice to you, don't make life easy for thieves! Vandalism on the other hand is another matter. Whether it be teenagers breaking onto your boat to have a party or criminals throwing rocks at the windows of your boat. These situations often cannot be avoided but that's why you have insurance!
Sinking
Submersion is certainly far from ideal and just like with groundings the salvage operation can become an expensive exercise. Again, submersions happen for a variety of reasons but unfortunately they often result from a lack of maintenance which insurance does not cover. The extent of loss resulting from a sinking can often be avoidable, however, a lack of operational bilge pumps on some boats can exacerbate the damage. Submersions are also incredibly scary if the incident happens out at sea! Always be sure to carry the required safety equipment to protect yourself and your crew should the worst case scenario occur.
Engine Failure
Engine failure is a tricky one as in many instances it is not actually covered by insurance. The determining factor will always be the cause of the loss. If your engine fails as a result of an accident such as a grounding, lightning strike, collision, etc. then it is covered however, if the damage results from wear and tear, lack of maintenance, faulty workmanship or the likes then it is likely not a claimable event. That being said, should you require an emergency tow due to an engine failure we will always try accommodate and in most cases won't even charge you your deductible. Now what is the best insurance for your engine? Not skimping out on having it serviced by a reliable mechanic!
Mast Breakage
Masts can come down for many reasons and they have the potential to cause huge amounts of havoc on their descent. Sometimes it can be the result of a large collision, at other times it can be caused by a faulty or weathered component of the standing rigging. Riggers worldwide recommend the replacement of the standing rigging every 10 years and the regularity of mast breakages from old standing rigging is one of the many reasons why. If you are at sea and your mast breaks, firstly do your best to not panic (easier said than done of course) and then try secure the mast and as many components as possible. After that, motor to your nearest port and get in touch with the Pantaenius team.
Fire
Fires can start for various reasons and we have truly seen it all! The unfortunate thing with fires is that they are tremendously destructive, often leading to total losses. They also typically take longer to deal with as fire investigators are involved to determine the cause of the damage, the determining factor in the claim. If the loss is as a result of another parties negligence, such as an electrician who undertook faulty installation work, then this individual/company would become liable for the loss. Like any claim, fire damage can be minimized if prompt action is undertaken. Do not hesitate to call for professional help if a fire breaks out, after getting yourself to safety of course.